New Album Coming September 2023!
"

These Filthy Traitors are amazing! Too bad they can't be trusted." - Cadi Weaver
"

Great band to work with. They sound better and better every time! Super professional and always a pleasure to have around. Highly recommended. " - Julio Palomino
"

Band is so sexy. Can't wait to see them again!" - Michael Knapp
Filthy Traitors is a Seattle based punk band that began as an idea in late 2016 between guitarist/vocalist Chelsea Weaver and drummer Jack Love. They missed playing punk rock in former bands (Innuendo and Omega Moo) and needed an outlet for, well, feelings. They recruited local sound engineer/producer Justin Davis on lead guitar and after a brief stint with TJ Harris (now of Well Adjusted), brought on former bandmate Ryan VanderVegt on bass.. 
Filthy Traitors has created a brand of music called Murder Punk, mixing old school punk rock with a heavy, sometimes sludgy vibe, a bit of math, and the constant thread of soaring melody. Like if The Kills and Nirvana had a baby, and The Yeah Yeah Yeahs and Rise Against had a baby, and then those babies grew up and had a baby. Many of the songs tell the stories of real life serial killers and murder mysteries. The band released their first EP, Even After Death, in September of 2020.
The band brims with inside jokes, pupusas, and energy. They own the "work hard play hard" aesthetic and are putting their all into a full length sophomore album, to be released late summer 2023 with a West Coast tour to follow. Come out. Fall in love. Get fucked.
Justin     -     Jack     -     Chelsea     -     Ryan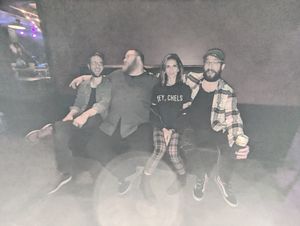 Join The Filthy Traitors Family