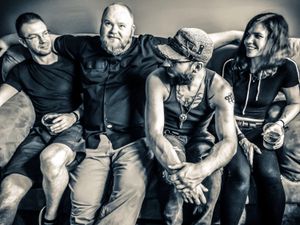 New Album Coming September 2023!
"

Murder Punk? What Kind Of New Age Crap Is That?"
— Random Passerby Who Mysteriously Disappeared
Filthy Traitors began as an idea in late 2016 between guitarist/vocalist Chelsea (Dr. Weaver) and drummer Jack Love. Both decided to stick to their roots in punk music, which has driven the direction of the band. Chelsea has a penchant for murder mysteries, and has incorporated these ideas into the lyrics and stories throughout the music of Filthy Traitors. 
Rounding out the quartet is Justin Davis on lead guitar, and Ryan Vandervegt (The Snapper) on the bass. Justin and Ryan are both accomplished sound engineers (and coincidentally drool over the sound boards at local venues). 
Filthy Traitors has made waves in the local scene putting on a show of high energy music. Their collective punk and low-fi roots really shine, laced with murderous themes.
Join The Filthy Traitors Family